Yoshitaka Shotokan Karate Club
Welcome

Welcome to the Yoshitaka Karate Club Website. The club is Swansea (Wales) based and we practise Shotokan Karate.
We are a friendly club and welcome both adults and children. 
To join us visit and 'like' our Facebook page or email us at Yoshitaka.karate@gmail.com. 
We hold training sessions in various locations across Sketty and Upper Killay. The club is affiliated to the United Schools of Karate Wales (USKW) and our Sensei, Patrizio Camillini is the Chief Instructor of USKW.
See above menu for our training times and further information regarding our style and instructor. Please feel free to contact us to see which class is best for you.  
CORONAVIRUS UPDATE
We hope you are all well. Please note karate classes will remain suspended until
Thursday 30th April 2020
. we will monitor the situation and provide updates on reopening via
facebook.com/karateswansea
or here.
Stay safe!


See you soon.
Patrizio
Saturday classes
Please note, Saturday classes will be combined into one at 11 - 12 am for the next few weeks. Apologies for any inconvenience and thanks for your continued support.
Our Sensei Camillini...
...demonstrating perfect stances.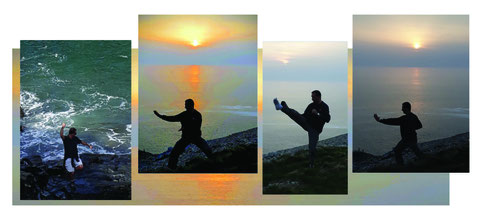 Only a strong karateka would attempt Gangaku at waters' edge!
Competitions
If any students are interested in taking part in competitions please let Sensei know.
----------------------------------------------------------------------------------------
Training App
The Karate WKF app is available FREE on Android and Itunes Appstore.
It has excellent explanations and examples of karate terms and technique plus diagrams of all shotokan kata with links to youtube videos.
Facebook page
You can find and 'like' us on Facebook to keep up with the latest news.